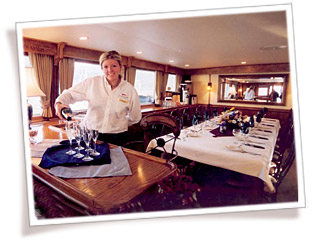 The moment you step aboard our yacht you'll know you've found something special. Your captain personally welcomes you, and the crew greets you with hors d'oeuvres and champagne as your yacht cruise begins. You have become a pampered guest, one of the very few, who will leave the crowds behind to journey through some of the most magnificent destinations in the Americas.


Brochure Request
Contact Us


Email a friend

Print-friendly page
Our yachts, the Safari Spirit and the Safari Escape, both carrying just 12 guests, and the Safari Quest, carrying 21, cruise during daylight hours only, maximizing your opportunities to truly experience the wildlife, culture, and people found along the way. Our inclusive cruises feature private shore-excursions, Expedition Leaders who provide educational lectures and narration in Alaska, Mexico, California, Columbia & Snake Rivers, and the Pacific Northwest and gourmet meals each day.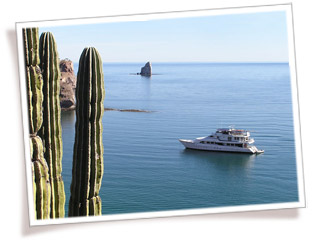 Whether you are at anchor in the deep reaches of a glacial fjord in Alaska, sipping wine on deck as we cruise the Napa and Petaluma Rivers of the California Wine Country, snorkeling among sea lions in Mexico's Sea of Cortés, or following the path of Lewis & Clark on the Columbia and Snake Rivers, American Safari Cruises will take you there in luxurious, personal style.



The sleek profile and maneuverability of the yachts give you unparalleled access to many wonders. You come so close to pristine waterfalls that you feel the invigorating spray. Your itinerary is flexible enough that your captain can change course when word of whale sightings comes over the radio, or slow the engines and linger in a tidal inlet if bears are out foraging on the beach. Maybe all the guests agree they want to spend extra time fishing, kayaking, hiking, or beachcombing. It's your trip.

We call it yacht cruising. We've plotted a course, set the menu and hired the crew. You get the pleasures of yachting without doing any of the work.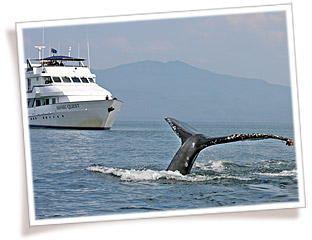 Native Alaskans have a saying: "When the tide is out, the table is set." And that's certainly true for Alaska's bears, fond of mussels as they are. Always keep an eye on the shoreline - bears are abundant throughout these waters. And to approach one by Zodiac or kayak - carefully, quietly - is an awe-inspiring moment.

Wildlife is a major focus on an Alaska Yacht Safari. Bald eagles, proud in the tall trees, pigeon guillemots, kittiwakes, perhaps a few puffins - it's a birdwatcher's paradise. When humpbacks or orcas appear, we'll stop to enjoy the show. The Captain makes a conscious effort to maximize wildlife viewing, always, however, with respect and restraint.

Dining is a true delight, a cornucopia of fresh local seafood, just-baked breads, hearty soups, exquisite entrees, sinfully delicious desserts. Everyone is served at one seating, family-style; dress is always casual. Of course, we're happy to plan for any special dietary needs, and if there's something you've got a craving for, let us know.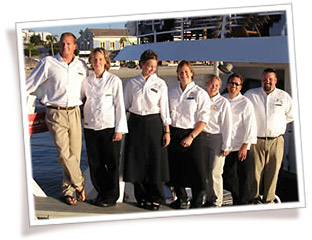 You also become familiar with your crew and staff, whose goal is to make every aspect of your journey a pleasure and to facilitate your adventures ashore. Most times, you're welcome to visit the bridge and discuss navigation with the captain. Throughout your voyage, you're accompanied by a knowledgeable expedition leader who offers timely narratives about the local history and wildlife, introduces you to local indigenous peoples, and keeps a lookout. Humpback whales abeam while you're in the lounge? Your guide will sound the alert!



Because your cruising party is small, you get to know your fellow travelers, people you'll have more to talk and laugh about with--as the days go by. They're people like you, curious about new places and able to appreciate roads less traveled. Fishing or kayaking side by side, you and your shipmates will form lasting friendships. Our yachts accommodate just 12 or 21 guests, which also makes them perfect for a group of friends or family to charter.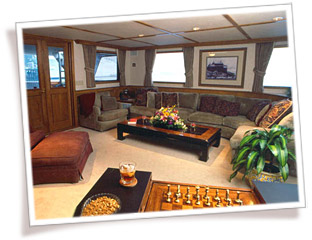 Maybe you remember other cruises where you had to pay extra for tours and flightseeing and your drinks at the ship's bar. Not with us. With the exception of a gratuity for the crew--which we believe is a very personal elective--everything is included on our cruise.

From your arrival at the airport to a fond farewell, you're a pampered guest aboard our yacht. Everything's included from the first to the last:
Gourmet meals
Premium wine, beer and liquor
Kayaking and Zodiac exploring
Flightseeing (in Alaska)
Exclusive shore excursions
Pre-cruise hotel night on 8-night trips
On-board naturalist
Airport and hotel transfers

Interested in learning more about American Safari Cruises?
Call us at: 905-857-1556 or 800-563-2338
Or send us an email at: customercare@explorata.ca