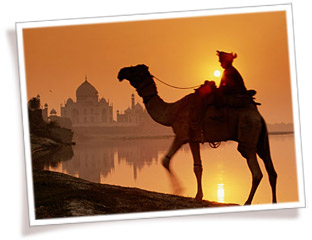 Marrakech, Morocco . Tripoli, Sabratha & Leptis Magna, Libya . Petra, Jordan . Dubai, United Arab Emirates . Taj Mahal & Udaipur, India . Kashgar, China . Istanbul, Turkey

Crisscross Asia, the Near East and North Africa by private jet, linking fascinating market cities along history's great trade routes.

Transporting tea, spices, silk and gold, these byways also conveyed ideas, art, language and religion.in a word: Civilization.
Experience legendary cities where the ancient world mingles with the modern - from the cultural melting pot of Merrakech to exotic Instanbul.

Be among the first to explore Libya's Leptis Magna and among the few Westerners to barter and trade in the amazing old-world market in Kashgar.

Walk paths tod by Nabataeans thousands of years ago in Petra. Delight in the landscapes and Rajasthani art of Udaipur, and cruise aboard a traditional dhow in Dubai, in Persian Gulf's "City of Gold."

Only now - by private jet - can you experience the world's cultural evolution in these ten magnificent destinations on a single expedition.



Private jet travel offers a world of benefits that include:

Linking many of the world's remote, must-see places on a single trip
Bringing together a team of expert lecturers, an expedition physician, a private chef and a superb staff to handle every detail
Providing superb comfort, safety and convenience
Eliminating the hassles of commercial travel
Taking you places you only dreamed of


Overview
Itinerary
Trip Details
About TCS Expeditions
Terms & Conditions
Brochure Request
Contact Us

Email a friend
Print-friendly page


DATES




Oct 10-27, 2006





TRIP LENGTH




17 days





PRICING




$36,950 Double




$40,550 Single



Early Booking Bonus:


Book before Jan 15, 2006




and save $1850/person




($3700 per couple!)

Interested in learning more about this trip?
Call us at: 905-857-1556 or 800-563-2338
Or send us an email at: customercare@explorata.ca
For more information also check out these pages: Itinerary, Trip Details and Terms & Conditions