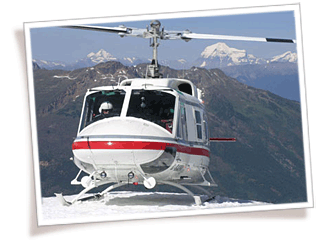 Incomparable hiking and walking vacations! For over thirty years Canadian Mountain Holidays (CMH) has been providing its guests with an extraordinary mountain experience. The combination of learning, fun, and challenge provides a special holiday that inspires a sense of discovery. Regardless of your age and ability, this is an invitation to expand your mental and physical boundaries while gaining a deeper appreciation for this incredible wilderness.


Overview
Heli-Hiking FAQ
Brochure Request
Contact Us


Email a friend

Print-friendly page

The helicopter has just landed; you and your group huddle on the ground, holding on to your hats. The helicopter lifts off and the wind is suddenly gone. You slowly straighten up and your heart begins to beat a little faster. Standing on a ridge at 2,438 metres (8,000 feet), the twisting mountain stream in the green valley below you is a mile down. Across the valley, a glacier made of ice 1,000 years old clings near the top of a jagged mountain. Behind it, rows of mountain peaks touching the heavens fade to the horizon.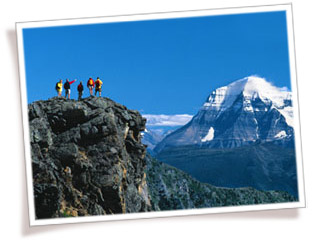 CMH takes you on the most spectacular adventure you've ever imagined. Fly by helicopter into the breath-taking Columbia Mountains, where luxurious mountain lodges await. Daily helicopter flights take you to the most incredible mountain hikes: along 9,000 foot high ridges, in stunning flowered meadows or to an ascent of a towering rocky peak. The sights will astonish you, the wonder of nature will overpower you, and the memories will last you a lifetime.

Life at the lodge is as luxurious as the mountains are high. Dinners consist of sumptuous entrees, and homemade bread, created by the world-class cooking staff. Guests and staff dine together. Conversations are lively, filled with tall tales and anticipation of the next day's adventure. Relax after dinner on a balcony or by the fire. You will feel the exhilaration that comes from experiencing nature's wonders and living life to the fullest.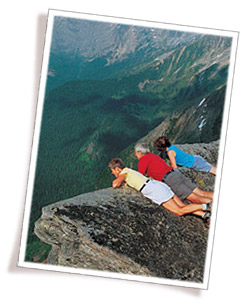 Get off the beaten path, take a walk on the wild side and live an adventure.



Based from our five remote lodges, we spend the day hiking and exploring, always at a comfortable pace, with long or short, strenuous or leisurely hikes to choose from. Our guests, not our guides, set the gait.

Each day we immerse ourselves in different terrains. Our guides are in constant communication with the lodge's helicopter, so we may make two or three different hikes during the day. Our golden rules are flexibility and adaptability.

Following an early morning yoga session (or a bit of a sleep-in!) and breakfast, we might begin with a nice, above-the-world ridge walk. This may be followed by a helicopter pickup and a quick flight for a serene picnic on a meadow beneath a stupendous glacial cirque. Then a quick flight up higher to traverse around a little cobalt lake, all the time soaking up rays of summer mountain beauty.

In the late afternoon, we fly back to the lodge for a massage, an outdoor hot tub soak or a sauna, a chapter or two a good book, a well-earned, beautifully prepared dinner, and some story-swapping by the fireplace.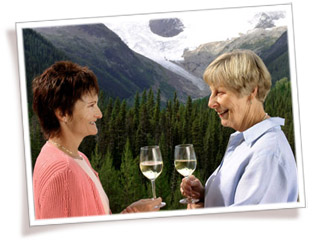 It feels like home without all the work. CMH Lodges are designed to fit harmoniously within the mountain environment. They exude a comfortable charm while providing the highest quality of living spaces. All bedrooms have private baths and cozy duvets in their rooms. Amenities such as outdoor sundecks, whirlpools and saunas are also available to enjoy. The common rooms, with large stone fireplaces, a bar and glassed topographic maps, become focal points of the lodges where conversation and friendships blossom.

Every member of the staff contributes to the warm atmosphere with their personable and friendly styles. Meal times are the perfect example of the family-like atmosphere, when guests and staff eat together, with staff members playing host at the head of each table.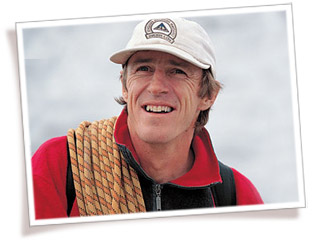 We think these people are special. Complementing the staff's professional skills are their qualities as people. All of the staff, from the manager to the chef and housekeeping staff, are an incredible group who foster a warm and comfortable environment that is a reflection of their personality. It shows up in the little things: like making sure your boots are the perfect fit, or providing special meals for people with restricted diets, or offering the extra encouragement you need to take you beyond what you thought were your limits.



Interested in learning more about Canadian Mountain Holiday Tours?
Call us at: 905-857-1556 or 800-563-2338
Or send us an email at: customercare@explorata.ca
For more information also check out this page: Heli-Hiking FAQ