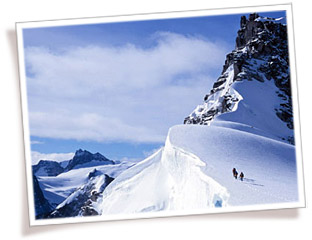 A Canadian Mountain Holiday is for people who want to go where few have gone before and travel with grace and style. It is a high mountain adventure of helicopter rides and spectacular encounters with nature, combined with private rooms in luxurious lodges and fantastic food. It is an adventure by day and a family gathering by night. It is unlike anything you've ever done before.

Overview
Heli-Hiking FAQ
Brochure Request
Contact Us


Email a friend

Print-friendly page

Stylish and comfortable, CMH lodges blend harmoniously into their mountain surroundings. Guests enjoy the finest quality living space and amenities, such as rooms with private bath and a relaxation massage service, while the camaraderie of both staff and guests contribute to the family atmosphere of the lodges. The Adamant, Bobbie Burns, Bugaboo and Cariboo Lodges are accessed by helicopter and allow a maximum of 44 guests. Valemount Lodge, CMH's newest lodge, is accessed by road and is limited to 20 guests.


Give Explorata a call. We will help you decide the best lodge for you based on your interests, schedule, itinerary, budget and availability.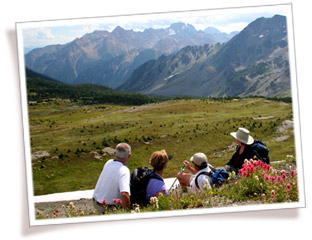 Each day starts with a gentle stretch class, followed by a hearty breakfast. The guides, based on your input, create groups of 11 guests of similar abilities. Equipped with your hiking gear, you're ready for the day's adventure. The helicopter lands your group on a spectacular 2,500 metre (8,200 feet) ridge where your hike begins.

Depending on the interests of your group, you may embark on an all day hike that covers a diversity of terrain, or you may take a helicopter flight after lunch to a beautiful alpine lake. The day is flexible based on the weather and the desires of each group. Late afternoon, helicopter back to the lodge for some exceptional cuisine. After relaxing in the whirlpool, or sharing stories with new friends by the fire, you fall asleep under a cozy duvet. The next morning, wake up to more hikes, helicopter rides, fantastic food and the chance to take yourself further and higher than you ever thought you'd go.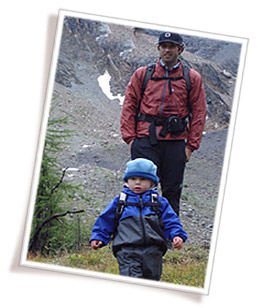 CMH has hosted 4 generation families at one time, from young children to great-grandparents. Every generation can create their own perfect day, based on their own abilities and expectations. Experiences unfold as stories that soon become fond memories. Some families even book the whole lodge for themselves.


CMH invented Heli-Hiking 23 years ago. It is an abbreviation for helicopter-assisted hiking.
The helicopter is used to transport guests to and from the lodge for each hiking day. The lodges are located in very remote mountain areas with a vast amount of terrain to explore. There are few established hiking trails, therefore the helicopter is required to transport guests to hikeable terrain each day.


Absolutely. As long as you are able to walk and have a spirit of adventure you can heli-hike. One of the greatest advantages of a CMH vacation is that we can accommodate all abilities, regardless of age.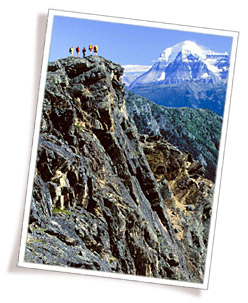 Definitely. Our guides can challenge you physically and mentally with vigorous full day trips exploring remote regions touched by few. With helicopter access we will discover new terrain each day to ensure your adventurous spirit is satisfied. How high and how far is up to you! If you are interested in a more technical mountain vacation, call today and ask about our Mountaineering trips.


CMH operates in the remote Columbia Mountain range of British Columbia, which is just west of the Canadian Rockies and the famous town of Banff.

The selected terrain is always walkable, with most of the hiking above tree line to maximize the views. As our areas are outside of the national and provincial parks, there are no set trails.
Guests hike as much or as little as they want: from 30 metres to 16 km (100 feet to 10 miles) and more. Groups are formed based on ability, so you can hike comfortably within your limits, or choose to go beyond.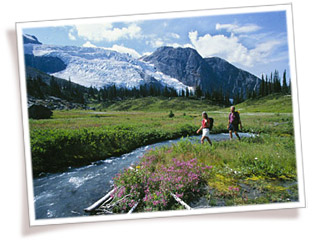 Each lodge has 1000 sq km (386 sq miles) of remote, spectacular terrain to explore. Within each area there are glaciers, mountain lakes and streams, waterfalls, flowered meadows and awesome peaks. With the use of the helicopter, we can access all of this terrain and choose hikes that are suitable to each group's ability. Each lodge and its surrounding area has a unique quality. Many guests visit a different lodge each year. We can safely say that no matter which area you choose, you will have a spectacular time.


Not at all. CMH provides equipment for your daily hikes, including: hiking boots, insulated hooded jacket, rain poncho, wind pants, day pack and water bottle.

You should not have to go out and buy anything special for your CMH holiday. Comfortable pants, shorts, t-shirts, sweatshirts, gloves, hat and sunglasses are all that you will need. It is recommended that you bring several layers of clothing. These layers will allow the greatest degree of flexibility for the varied climate of the mountains.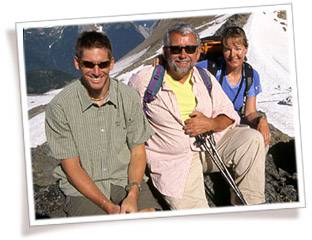 CMH provides top quality clothing and equipment suitable for the mountains that you may not have including: hiking boots, insulated jacket, wind pants, rain poncho, day pack, gaiters, water bottle and a walking stick. We also provide all the necessary gear for mountaineering.
Compared to the US Rockies and the Alps, the Columbia Mountain range is at a relatively low altitude. Because tree line is at 2,100 metres (7,000 feet) and the highest peak is 3,300 metres (11,000 feet), we don't have to go to the rarefied air of higher altitudes to get spectacular views. Hiking takes place between 1,800 metres (6,000 feet) and 2,700 metres (9,000 feet), which is a very comfortable altitude for most people.


Generally, the weather is sunny and pleasant. Due to the high mountain environment, this adventure can also bring adventurous weather. You need to be prepared for cooler temperatures, rain, windy conditions and possibly snow. As long as it is safe to fly, we do hike in the rain. The clothing and equipment we supply will keep you warm and dry. Hiking in the rain is a lot of fun when you are well prepared! On the rare days of continuous rain, we head back to the lodge for lunch, have a whirlpool and see what the afternoon brings. Rarely does the weather create a problem with the flying or hiking. The temperatures range from highs of 10-29°C (50-85°F) during the day to lows of -1 to 15°C (30-60°F) at night.
All holidays of two or more nights include:
Accommodations
All meals, wine with dinner, snacks, refreshments, picnic or BBQ lunches
Helicopter flights to and from the lodge and to hiking areas each day
Hiking/Walking with CMH guide
The use of equipment (see what to bring)
Mountain biking and canoeing equipment at the Gothics Lodge
Transportation from Banff to Bugaboo, Bobbie Burns, Adamant and Gothics Lodges, and from Jasper for the 2-night Cariboo Lodge holiday
All taxes
(Gratuities are at a guest's discretion)

Comfortable, weather resistant apparel is an asset but if you don't own items such as hiking boots, jackets, windpants or a daypack we do provide them at no additional charge during your stay. The atmosphere in the lodges is informal so there is no need to bring an extensive wardrobe. Laundry facilities are also available for your use. We will send you a list of what to bring with your trip confirmation.