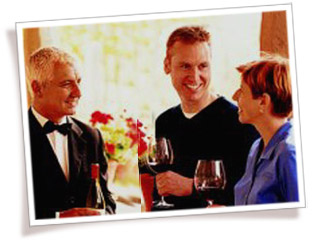 At B&R we believe in slowing down to see the world. Yes, our trips are meticulously well organized, but they're also gloriously flexible and unstructured. That means smelling the roses, tasting the wine, indulging in a siesta, chatting with locals, enjoying the views and checking out the sights.

Whether you want longer, more challenging routes, or the time to linger over lunch, the day is yours to discover. We provide the options, you make the choices.


Overview
A Typical Day
Brochure Request
Contact Us


Email a friend

Print-friendly page
Depending on your choices, your day might look like this:

8:00 am Wake up, roll out of bed, pull on Lycra and check out the Herald Tribune the guides have delivered. Or just roll over and go back to sleep.

8:30 am Devour scrumptious breakfast.

8:45 am Move on to third croissant and second café au lait, only half-listening as guide tells me about day's options. I am on holiday, after all.

9:15 am Look for my bike. Find it - it's the one with my name on it. Route suggestions fit perfectly into snappy handlebar bag, water bottle's been filled. The guide even adjusts my seat. Too technical for me.

9:30 am On my bike, following the route suggestions. Okay, really I'm following my wife.

10:00 am Stop to chat with locals picking cherries. Yum.

10:30 am Almost pass medieval château, then decide to pull in for the tour our guides have arranged. Nice pad.

11:30 am Turn page of route suggestions. 20 km already!

Noon-ish Wave to cow. Most traffic I've seen all day.

1:00 pm Big decision: picnic in vineyards, or stop for lunch at one of the places recommended by guides. How can I make these sorts of decisons? I am on holiday, after all.

1:05 pm Oh joy - guide invites us to join him at his favourite local auberge.

2:30 pm Back in the saddle. Turned down lift back to hotel in B&R van. There's always tomorrow to hang by the pool.

3:30 pm Hey, cute café! Think I'll stop for a pression - that's French for draft beer. See, I've got the lingo down.

4:00 pm Home, sweet home... er, château.

4:15 pm Join other travellers in a game of boules on the lawn as my wife heads off for a massage.

4:49 pm Fall into a deep, delicious slumber. Hail the siesta.

7:00 pm Decide to join the group for drinks. Have an interesting chat with the couple from Santa Barbara.

8:00 pm Dinner in a little place I would never have found on my own. Great "local" experience, and I think it's Mama herself in the kitchen. Amazed by B&R's planning - last night was a Michelin-starred feast, tomorrow night we're on our own in St-Rémy. Now that's balance.

11:00 pm Tucked into crisp white sheets in the four-poster with a good book. Mmmm.

11:15 pm Reflect on perfect day, make note to self: take another B&R trip.