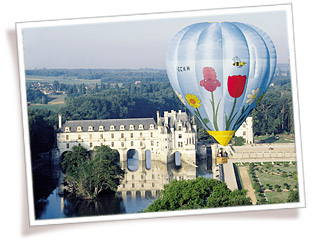 We plan to fly at least once each day our guests are with us, excluding departure day.



No. In the calm conditions in which we fly there is nothing that makes the basket sway. It hangs motionless in the air mass in which it is suspended. If you hold a candle in your hand as you fly, it will not flicker. Tranquility and calm are words often used by our guests to describe the sensation they feel on our flights.



Overview
Balloon Adventures FAQ
View Streaming Video
Brochure Request
Contact Us


Email a friend

Print-friendly page

Approximately 1/3 of your day will be devoted to balloon-related activities and 2/3 to sightseeing and enjoying the fine foods and wines of the region.



No. Each stop is at least 4 nights in the same hotel. We unpack only once, and settle in.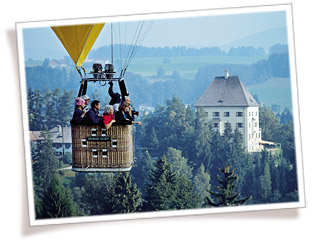 We prefer to fly close to the ground at altitudes from which you can speak to people on the farms and villages below you as you drift gently by.



A balloon is wafted along by the breeze and thus flies at the speed of the wind. We lift off in gentle breezes up to 10 mph.



Passengers normally stand during flights, although we can accommodate those who must be seated. The basket will hold 8 passengers but we fly with only 6.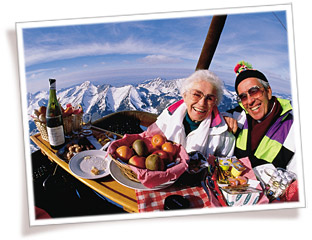 No. Age is no barrier to thoroughly enjoying our "flights of fancy. " Our youngest guest was 6 years old and the most mature, 91.



Although government regulations require only 35 hours of flight experience for issuance of a commercial balloon pilot license, we like to point out that each of our pilots has over 4000 hours of professional flight time experience.



No, not at all. Everyone is welcome.



With the beautiful balloons and all the smiling faces they produce, even an instamatic will create a marvelous record of your trip.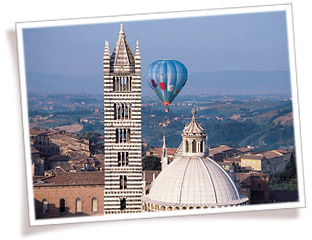 Our areas are selected for moderate climate with gentle wind patterns so necessary for a successful ballooning program. Our experience over twenty two years has been that the weather permits us to fly 85% of the days scheduled. Our dates of operation coincide with the best weather in each of our areas.



Each of our eight months from May through October plus January and February has its own distinct personality and advantages, providing a consistent level of enjoyment. Choose your favorite season for travel.



Should a flight be postponed due to inclement weather we will take advantage of this time on the ground to further explore the many treasures of the area. Every effort will be made to make up the missed flight, flying morning and afternoon, when the weather clears, until we are back on schedule. As flying takes precedence over other planning, there may be changes in the daily itineraries.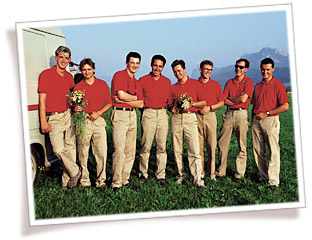 24 years. The program was launched in 1977. We now operate eight different programs in six countries



We have approximately as many staff on each trip as we have guests.



Yes. We have numerous take-off sites scattered throughout our ballooning regions. By selecting a take-off site up-wind of a desired objective, we will drift downwind over the selected attraction.

WINTER TOURS IN THE ALPS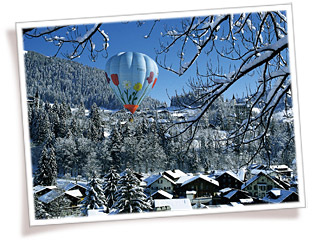 Surprisingly, in winter, ballooning is much easier than in the summer. During the winter, in the absence of the occasional storm front, the cool air masses lying in the valleys remain stable and relatively calm for long periods of time. Conditions, in general, are ideal for pleasurable and safe ballooning. Daily weather reports from the Swiss National Weather Service at the Geneva Airport ensure that our pilots are informed of changing trends. In the event a flight is postponed due to weather conditions, your hosts and drivers will be standing by with alternative plans for enjoying the day.



Takeoffs will be around 11:00 am. An elegant in-flight picnic luncheon will be served as you slowly drift through the Alps. Landings will be around 2:30 pm.



Yes, with the following average temperatures:
January ---- High 39 degrees F / Low 29 degrees F
February---- High 48 degrees F / Low 30 degrees F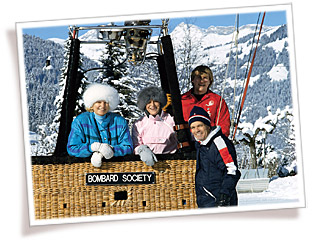 We suggest dressing in a similar fashion to skiers. An excellent choice of footwear are foam rubber boots or Sorrels sold in ski shops. Contributing substantially to your comfort is the fact that the balloon is always moving with the air mass in which it is suspended. Thus there is no wind chill factor. To add to you comfort, the summer heat shields are removed from the propane burners mounted overhead.



Each afternoon after flying, there is usually an hour or two of free time. Many of our guests spend this time shopping and enjoying Gstaad.